My Process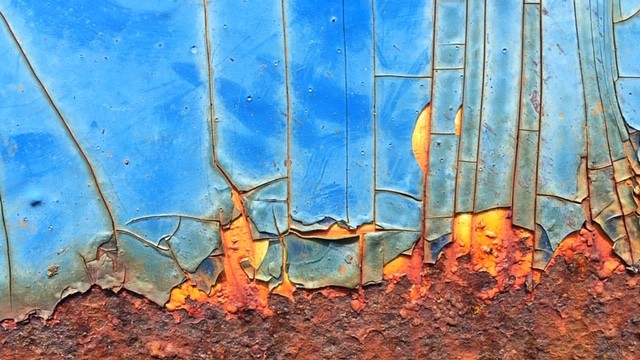 As an artist, I am inspired by the decomposing, imperfect world that surrounds me. When I discover something that is corroding and falling apart, I always stop to admire it and, while in its presence, I can't help but wonder what this object went through. Left abandoned, battered and forgotten, you can see through all the jagged layers of rust and peeling paint that this body had a soul - it had a life. You can see what it once was, but now is almost unrecognizable. It's so ugly that it's beautiful.
My process to create always starts with some exploration. I go out into the world and seek interesting areas where things were left alone, unattended and forgotten, waiting to wither away into nothingness. Places like junk yards or abandoned buildings are always full of inspiration. Once there, I photograph the parts I find most interesting. The picture serves as a reference. From there, in my studio, I build up the surface of my canvases with paper, metal, stucco or whatever I have on hand. Applying thick and thin layers of paint, I start to scratch at the surface of what the piece will become, working the media until the representation of the decaying element in my mind comes to life. Each piece has its own story. It's my responsibility to tell it.
There's nothing quite as beautiful to me as decay. Its dark beauty is something I want to capture in my art and share with the world.